Shakespeare's birthday month was coming to a close, and I finally settled into this movie to review for it. So, even if I missed The Bard's birthday, he is still getting an adaption review/analysis of one of his most popular works. Also, my own favourite play, because it can be interpreted in so many ways and the discussion of it is always active in terms of the lovers and all the rest. Everyone has a vision and opinion on it, that is why Romeo and Juliet are so popular and why it has so many adaptations, including this one.
Summary;
In the (fictional) village of Ranjhaar in Gujarat, two clans have been fighting each other for hundreds of years; the Rajadi and Sanera. In this somewhat modern larger than life world of folk costumes paired with guns on the market for everyone are the two star-crossed lovers; Ram, the son of the patriarch of the Rajadi, and Leela, the daughter and soon-to-be-wed daughter of the matriarch of the Sanera clan. When attending the Holi parties in the city the two fall in love. But in a world of guns and everyday violence, there is more than one obstacle to true love in this world filled with death.
This must have been one of the first Sanjay Leela Bhansali films I saw, along with Hum Dil De Chuke Sanam that was on YouTube at the time without subtitles. It took me with its bright colours, music, presentation and didn't go let go until the end. In a sense, those two movies made a Bhansali fan; who loves his visionary approach, his melodramatic plots, his music and aesthetics, but also one who can see his flaws as well, which this movie has even as I enjoy it.
Having seen the other movies that he did before this movie this fits at that period when he was coming from some relatively smaller movies like Saawariya and Guzaarish, both of which were a hit with the critics on a certain level and did respectably in the box office as well, but nothing big. This movie in a way can be said to be his comeback from his blue/black period (the major colour motifs in the last films) and starting anew with more energy, more bright colours and even more melodrama thrown in. He said he wanted to do this film since his HDDCS days, but waited, and I am glad that he did.
He is one of the directors who are Auteurs that for me deserve the term since when he has his hands on a film he has so many jobs within it the film turns not into a film with many cooks all working in tandem, but one chef who rules the main aspects to fit his vision. In this film, he was the director, producer, screenplay writer, music director and editor and he collaborated with making the costumes for the film. He has total control, this is his movie through and through with all the familiar touches.
The peacocks are here as a motif throughout. Even Ram is called a 'peacock' on one occasion, the walls are filled with Raja Ravi Varma paintings and everyone is dressed impeccably in traditional outfits even though this seems to be set in a relatively modern setting. The colours and clothes are thought through, the songs are smashing hits with folk elements and it is a feast for the eyes. Anju Modi did the costumes and her work was used again in Bajirao Mastani, her clothes are memorable and are so much part of the character that they fit like a beautiful silk glove to hand.
With this movie, he also found his Star Jodi/Pair for future movies and now (finally!) real-life husband and wife Deepika Padukone and Ranveer Singh as his Juliet and Romeo, respectively.  The two of them had met beforehand in certain occasions at the parties in Mumbai, but this was the first movie they had starred together on screen. Needless to say, sparks flew, love blossomed, years of dating and successful movies for both of them climaxed at what could be said to be the equivalent of a Royal Wedding with a wedding in Lake Como in North Italy with Konkani and Sindhi ceremonies and all-stars receptions in India in 2018. It was the wedding event of the year, both of them at the top of their film game and stardom, but their love story began with this love story that had been told so many times before.
Deepika Padukone is a fire fueled and rebellious Leela as she is filled with spark and energy. A real gun in her hand as she pierces the heart of Ram, flirting with him from a distance and kisses him without inhibitions. She is a force of nature and will, dressed in the heavy folk Gujarati sarees and lehenga choli's while speaking into a phone with flirting couplets of rhyme to her Romeo. She is as dangerous and deadly as she is beautiful but by no means a Femme Fatale in the already cruel world the lovers live in. When she is sad her eyes glaze with water, holding strong against the ride that might for other actresses pour out, but for her, it shows both strength and vulnerability to hold her tears until the picture-perfect moment.
Ranveer Singh as Ram is not your average Romeo who wistfully has his head in the clouds with a soft heart inside his chest. Instead, he is a modern Casanova with dirty jokes on his lips, a porn stash in his bedroom, a motorcycle and for the delight of many in the audience shows his pectoral muscles in more than one occasion to be admired by the camera's loving gaze. He wants peace between the rivalling families only to have guns pointed at him on the mention of the idea. He drinks and wallows in his sadness like a madman, filled with so much love that he will do anything for it.  He has the perfect high energy and way of speaking his lines to fit the melodrama of Bhansali's script.
With these to at the helm and knowing they did fall in love during the making of this film and are now married, it adds, even more, their scenes together. Their chemistry is sizzling on screen, with an invisible bond that is there from the start, not to mention they look absolutely beautiful on screen. Between them is both the youthful impulsiveness that was with the original lovers, along with the sexual and romantic tension going on between them as their eyes meet the romance, as is expected, is not hard to sell to anyone seeing the film.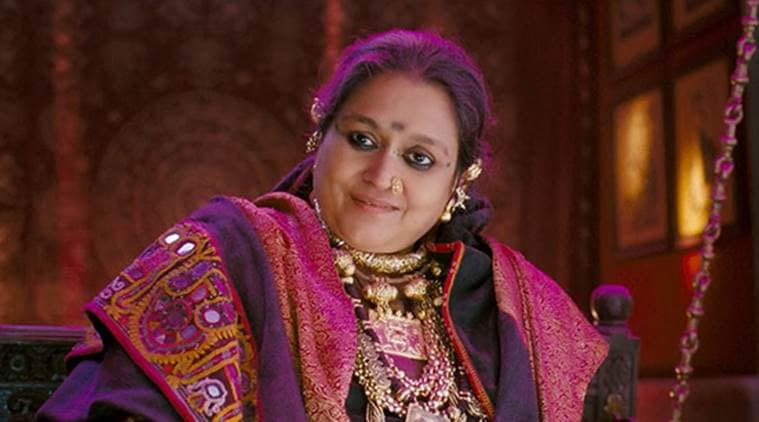 The secondary and minor characters are good, up to a point. Bhansali, as per usual, doesn't delve in complexities for them and relies on the acting to do the job since the plot doesn't give much time to them.
The exception to this is the ruthless matriarch Supriya Pathak Kapur as Dhankor Baa (the Lady Capulet) of the Sanera clan who does the right amount of Bhansali melodrama, mixed with a biting edge in her lines that make her a delicious character any actor would want to play. Her kohl-lined eyes are bullets, her laugh like ricochet and her smile as cutting as a knife. She is the one you will remember after the film is done and Bhansali gives Kapur a role that makes her memorable for everyone.
But the rest, they aren't as well done or clarified unless they are based on a character from the play. Richa Chadda as Rasila (The Nurse) is the most used and clarified who is Juliet's friend and sister-in-law, being married to Kanji Bhai (Tybalt) played by Sharad Kelkar. The rest are good in their small roles, but not utilised as much as they could. You just have to take them as they come and just focus on the romance, which for Bhansali is more important. So, in that, the film fails, but in a way is part of his style as his secondary characters aren't really characters unless they are part of the main plot.
The music is spectacular as ever with the folk elements I personally love and compliment both the story and characters the same way nature does. When in sadness Arjit Singh's 'Laal Ishq' (Red Love) is a soothing longing for love, encapsulating the sad tragedy of the lovers apart.
'Lahu Muh Lag Gaya' (I Have Tasted Blood) is sexual and brutal Garba number when Ram and Leela meet at the Holi party; even with its sweet melody as the lyrics tell of tasting blood on the lips of one's beloved and becoming mad with love, foreshadowing what's to come. 'Poore Chand' (Full Moon) is a song to the moon, almost as a homage to the moon conversation Romeo and Juliet have on the balcony. 'Ishqyaun Dhishqyaun' (Love Affair In The Sound of Bullets/Love in War) is a fun number, even when it doesn't have any point in the story. It is there for this young couple to play and enjoy being together, it is silly and it knows it. 'Tattad Tattad (Ramji Ki Chaal Dekho)' (See Ram Walk) is the blasting song for our Romeo, showing him being lusted at by the audience with fainting women around him as a parade forms below his feet. It is a bit silly, but it does make it clear that this is Bhansali's Romeo and Juliet, especially on screen.
'Ang Laga De Re, Mohe Rang Laga De Re' (Touch Me With Your Body, Colour Me With Your Colour) is the seductive passionate song filled with the bell-like voice of Shreya Goshal as Ram and Leela start to slowly begin to consummate their secret marriage on a bed. 'Nagada Sang Dhol' (The Drums Beat) is a high energy, almost feverish, Garba song where Goshal shines and was popular for dance videos on YouTube. 'Dhoop' (Sunlight) is another Goshal number but is not present in the film.
The traditional Gujarati folk songs used are 'Mor Bani Thangat Kare' and 'Bhai Bhai (Bhala Mori Rama)' to add even more cultural touches to this feast for the ears. They aren't in the soundtrack, especially 'Bhai Bhai', but some will find the other in the soundtrack listings if you are lucky.
I suppose a special mention should go to the Item Song 'Ram Chahe Leela' (Ram Loves Leela) for featuring Priyanka Chopra who was the second choice for the role (Kareena Kapoor being the first before she went to do another film) of Leela that eventually went to Padukone. The song is visually pretty in pink hues and a fire hazard for the number of lit candles in it and completely seductive, filled with innuendo and choreography that is far from the traditional kind usually shown in films. Bhoomi Trivedi's voice is husky and strong, befitting this Gujarati courtesan that Chopra performs as.
Also, considering this was Bhansali's first and thus far only properly considered Item Number (though 'Nimbooda' form HDDCS comes closest to the modern idea on it) and sold as such. One has to think he made it to make the film more commercial to the young crowd or to please Chopra, either way, it is something he hasn't done after, at least at the time of writing this. So take that as you will.
Overall this is an unashamedly loud, bright and "Bollywood" adaption of the tale of Romeo and Juliet. Yes, there are things changed from the play; some characters are combined, some get more focus than others and some are omitted completely. The scenes that stay are the fights, some of the deaths, the conflict, the secret marriage, the balcony scene and the meeting at a party at the residence of the enemy. Some Shakespeare fans will either love it or hate. It is like Baz Luhrmann's version in that way, borrowing some elements from it, but keeping it even more stylized than the clearly stylistically 90s MTV drama version he made (my personal favourite is the Franco Zeffirelli 1968 adaptation just to clarify).
But honestly, whenever Bhansali does a film it will be his mark overall that will make that film, The Bard in this might be set aside, the bones and important parts of his play kept along with the Hindi translated lines of his English iambic pentameter, but I am sure even William Shakespeare would have a good time watching this adaption so overblown and melodramatic that it could only be done on film.
So, happy late birthday wishes from me, William Shakespeare! 
Thank you for reading!