Hello!
Haven't been active here on the blog in a while. There have been some life changes (I got into University!) and it was difficult to write about something. That is sometimes the trouble, I like to analyse and look deep into different forms of media to find meanings and symbols. But I also want to enjoy what I watch and not have a headache from overthinking. Also, just the invisible pressure I put on myself. I am feeling better now, life is good and Autumn is my favourite season of the year.
Halloween is coming up and I thought it would be nice to do a list of horror or scary movies to watch this year. These are a list of my own personal favourites and in no particular order. Though I will say that I do have a type of scary movie I like; more tense quiet horror than all out gruesome, with a female lead, if there is family drama then that works as well, good soundtrack and it must be eye-catching with its cinematography. More the spine chilling it keeps you up at night variety than murder with an axe bloodbath and a long scare afterwards when you start to think about it more than the instant shock of the moment, let's say.
The Love Witch (2016) dir. Anna Biller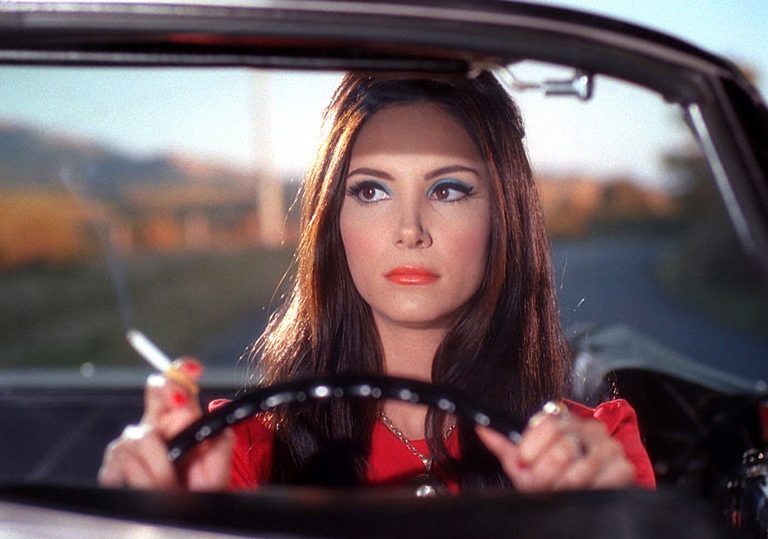 A story of Elaine (Samatha Robinson), a witch and a widow, as she searches for love in different men. Wearing her signature blue eyeshadow, false lashes, sultry lips and long raven hair she is a woman on the prowl. She believes in love – True Love – and will do anything to get it. Robinson's acting harks back to the old days of classic Hollywood with stars like Tippi Hedren and Janet Leigh from Hitchcock's horror movies. A little over the top (close to camp), looking perfect in every frame and keeping us at a distance even when she we hear her thoughts as she smokes, looking at us through the screen with her hypnotic eyes. She is a character one somewhat admires even as the bodies pile up.
Set in Los Angeles in the modern day, yet one could not fathom it when looking at the film. Indie director Anna Biller has created a world reminiscent of the late 1960s or early 1970s. With its cinematography, burst of technicolour and artistry in every frame this films is a feast to the eyes. This film embraces femininity both as a weapon as well as a style to be worshipped. Taking its inspiration from the fairy tale musicals of the French Left Bank director Jacques Demy (Umbrellas of Cherbourg and Donkey Skin) as well as Chantal Akerman, the pioneering feminist filmmaker.
In this movie's world Witchcraft is power, it is freedom of sexuality and from the bonds of society. Yet still the main character tries to conform to them, but still keep her own satisfaction. In the end, one has to wonder if those societal expectations are nothing but a dream that needs to go up in smoke.
Ringu (1998) dir. Hideo Nakata
In a small prefecture in Japan there are rumours of a cursed VHS tape. Once you watch it you get a phone call and you will die after a week. Reiko Asakawaka (Nanako Matsushima) investigates this rumour after the mysterious death of her niece. With the help of her ex-husband (Hirouyuki Sanada) they begin to investigation to the VHS tape and the ghost who has cursed said tape. This is just the beginning for this eerie tale of death, ghosts and images that will haunt you afterwards.
I am recommending this movies together. I watched this in daylight since is much easier to take in the scares that way. It is a quiet horror. One that creeps slowly through its stillness. Everyday objects, television and phone, become horrifying as the story unfolds. Seeing this almost forgotten world of house phones and VHS tapes is almost nostalgic as someone who grew up in the 2000s.
This film stays with you a long while. It is lonely and in a world ruled by technology (hello current incident with Facebook and others going down which will date this post) this film still resonates. Technology does have power in our world, but instead of VHS tapes we have apps and iPhones that keep us connected. So, what does one do when the means of communication to become objects of fear? This film (I am ignoring the other films because I haven't seen them) is a classic for a reason. And even now in our isolated bubble, this movie is scarier than ever thanks to the quarantines and restrictions that are meant to keep us all safe.
EDIT: I thought I had watched both of the movies, but looking back it seems I had just watched Ringu – nothing else. So, I just corrected this post. I have no I idea why I thought I had seen both of Ringu and Ringu 2, when I'd only seen the first movie. Sorry for the mistake.
The Others (2001) dir. Alejandro Amenábar
In the island of Jersey there is a large mansion surrounded by mist. There, Grace Stewart (Nicole Kidman) lives with her two children Anne (Alakina Mann) and Victor (Alexander Vince). Her husband is off fighting in the Second World War, she is all alone, until a strange group comes to her door. They want to be employed in the house where the windows are shut during the day, where one sees by candlelight – a world of its own. Soon unnatural happenings begin to manifest inside the house. And the group of three seem to know more than they are telling.
I fear saying anything more, since this movie is better watched blind WITHOUT SPOILERS!!
Crimson Peak (2015) dir. Guillermo del Toro
In the early 1900s a ghost story is taking place, from the metropolitan Buffalo, New York to the isolating English countryside. Edith Cushing (Mia Wasikowska) is an aspiring writer who loves her father, while trying to assert her independence in the strict society she lives in. Then, into her life comes Thomas Sharpe (Tom Hiddleston), a Baronet from England who has come to have his inventor financed and with him is his sister Lucille (Jessica Chastain). Edith and Thomas begin a courtship and after her father dies suddenly they marry and she moves to England, into the crumbling manor nicknamed Crimson Peak.
Del Toro has said that this is his own personal favourite film. It is also my favourite film of his. Is the story rather predictable? Yes. Is it not that scary at points? Sure. But to concentrate on those things is to loose what this film essentially is: a Gothic Romance. There are haunting images: with blood washing the snow bright red, motifs for the main characters (as seen in the image above), bright costumes contrasting with the black building and so much more. It is visually stunning, not to mention the chemistry between Wasikowska and Hiddleston that brings light and warmth into this bleak world. There are some disturbing things in the story that I won't spoil here, but in the end this is a tragedy. Yet, as del Toro always does, he makes you empathise with the monsters.
Bulbbul (2020) dir. Anvita Dutt
In Bengal during the British Raj a child named Bulbbul is to be married to a powerful Thakur (Lord) (Rahul Bose) from a good family. She hears the stories of the local chudail (witch/demon) who is said to have her legs turned backwards. Time passes and she begins to have feelings for her brother-in-law Satya (Avinash Tiwary) who is suddenly sent away. The moon is red over the mansion and after a while men begin to die in the nearby village. Has a chudail come? Or is the answer much more mundane?
What makes this movie scary, especially to women, is not the blood and gore (though there is that done in a tasteful manner). It is the unsaid, the story within this story. Child marriage, abuse within the family, isolating and loneliness, not being treated as a capable human being, but a child and so much more. I am not saying men cannot enjoy this movie or understand it. All I am saying is that this story hits harder once you don't look for the scares or "horror" and see that it is unfolding right in front of you. It is a movie worth many rewatches to catch all the nuances and possible stories within the story. Like why this family is the way it is etc.
This is the second in producer and Hindi film star Anushka Sharma's 'feminist horror' themed movies. The first was Pari (2018) which also deserves a watch. This is just easier to see since it is widely available, which is why I recommend it. I suggest after watching this to read a little about Rabindranath Tagore and to watch the Bengali movie Charulata (1964) to catch the references that this film makes to it.
I think I will leave this list like this. There are more, of course, but I need to rewatch some and discover more. Hopefully, I can remember to do this list for next year. There are just so many scary movies out there worth watching that aren't just made by the Hollywood greats at the moment. As I said before, these are my own favourites. So, if you find these then watch them!
Thank you for reading!