This is a well done movie. It is also a very comforting movie. It has that charm and a kind of innocence on a small scale that the early 90s Indian romantic movies have before the grandeur of Dilwale Dulhania Le Jayenge hit the following year, and after it Yash Chopra's and Karan Johar's romantic epics dominated the screens. In a way it seems like a farewell to this kind of a small romantic movie, and it is one of the best of its kind. The saturated colours pop out of the screen like candy wrappers in this sweet world where young people are becoming adult, while some are still trying to hold onto their free living childish tendencies, while others go straight towards adulthood. It is a very adorable, warm, comfort movie that you just cannot help but smile.
Summary:
Anna is coming back to Goa, her two friends Sunil and Chris both are eager to meet her. Sunil is desperate to confess his love to her, but sees how close Chris and Anna are becoming after she returns. In order to have a chance with her, he schemes in order to have Anna fall in love him in while trying to have his band become famous by performing at the famous local bar.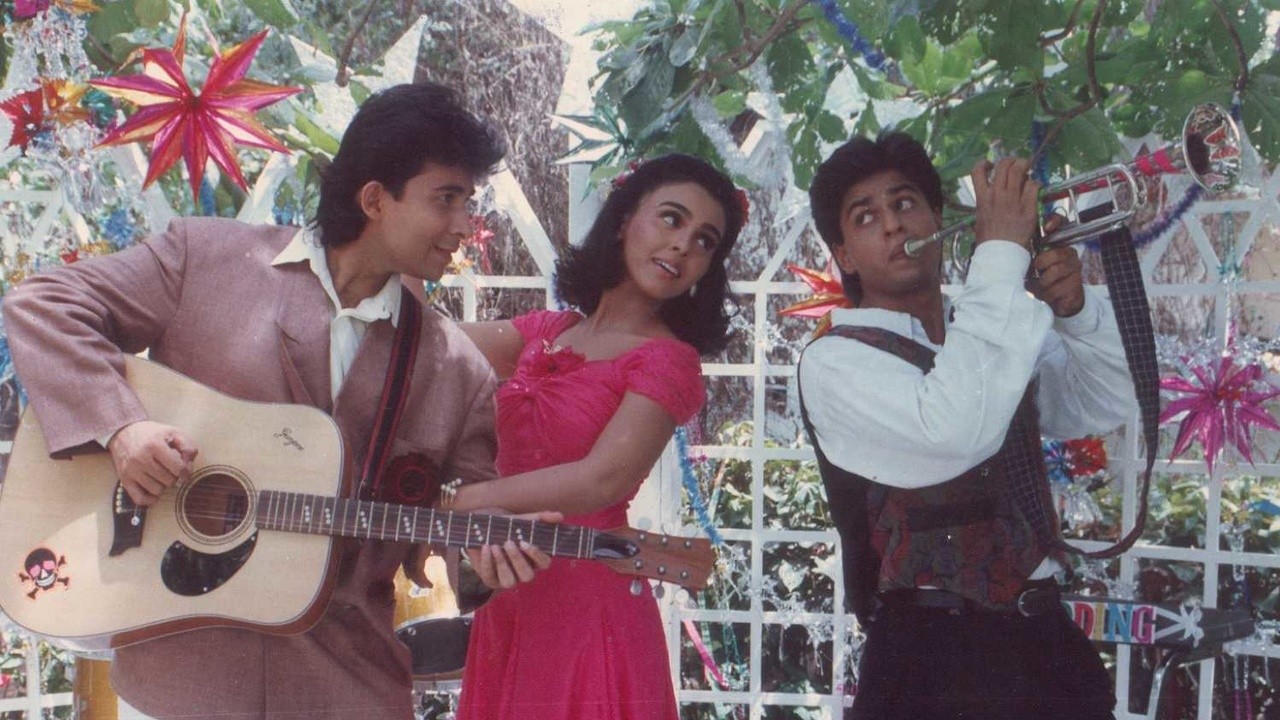 This is a film filled with good people. No one is really evil and the world has this feel of a relaxing time filled with nostalgia. The writer-director, Kundan Shah, has this nice take on the world, where there is drama, but that it doesn't overwhelm the world with sadness. Not to mention this kind of a soft tone that comes with it. One of his later movies, Dil Hai Tumhaara (2002) was one of the first Hindi films I watched because it was available online with English subtitles. He wrote the story for that as well, and there is this same presence of a love story happening on the side, while at the same time the main character has an unrequited love for one of them.
A young, adorable Shah Rukh Khan is that main character here in the role of Sunil. It is the role he himself considers the best of his own work, and it shows. Sunil is a character who acts selfishly, who is brash, who lies and cheats to get what he wants, yet he is still utterly endearingly young so you can forgive him. He is a boy who hasn't grown up yet. He can be annoying, but it is hard to fully hate him in any way, because we know he comes from a point of both naivety and of a familiar human selfishness. He is all of us at some point in our lives even if we don't want to admit it, which makes the film's story hit home even more. If the films candy-coloured world doesn't entice us, then Shah Rukh does so just by his smallest, subtlest smile or a switch on the way his eyes emote so much.
Then as Anna we have the sweet yet spunky Suchitra Krishnamoorthi who might look like a doll with her pink puffed sleeved dresses, bobbed hair and straw hats. Yet when push comes to shove she will be fearless and call out anyone out for lying or disrespecting her. She is a character who is proud, smart, and empathetic and you find yourself falling in love with her as easily as Sunil does. Her expressions are pure gold as she resists Sunil's attempts to seek her forgiveness.
And as the third party of this triangle we have Deepak Tijori as Chris – always the best friend, never the hero in the 90s films. He is charming, and has his life more on a stable track than Sunil has. Him and Suchitra have good chemistry together as well. For example, Sunil drives a motorcycle while he drives a car in the first song 'Deewana Dil Deewana' to show their differences.
Then as side characters we have Ashutosh Gowariker as Imran, one of Sunil's friends who would later make history by writing and directing Lagaan (2001). Sadiya Siddiqui as Sunil's little sister Nikki has some precious facial expressions and her cheekiness is adorable. Naseeruddin Shah is wonderful as the local priest Father Braganza.
The music is by Jatin-Lalit and every single one of them is utterly charming, as well as an ear worm. They perfectly fit this happy, sweet world that is enough to give you diabetes for all of its saccharine sweetness, yet there is a kind of an edge to it as well with all the difficult human emotions at play. My favourite of the songs is 'Ae Kash Ke Hum' for its sweet yearning lyrics, swooning melody and this whole feel of an enchantment when being with the person you love or have a crush on. Shah Rukh's expressions tell it all. My second favourite is the comical apology song 'Aana Mere Pyar Ko' for all of its charm, rhythm and the antics that happen at the same time. Shah Rukh does some excellent physical comical acting while Suchitra's expressions and responses respond to his with just the perfect amount of irritation.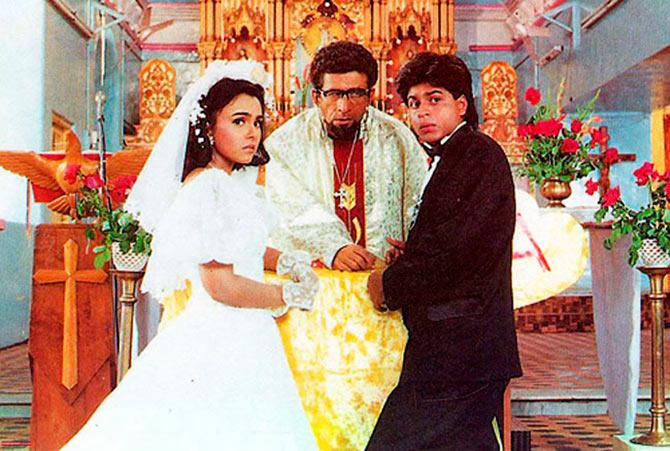 This film also has this charming secularism about it. Sunil's, Anna's and Chris' friend group consists of Hindus, Muslims and Christians and there is no hate or "obligatory minority" feeling about it. Our hero is Hindu, but he is more often seen in churches, his love interest is Christian and his best friends are Muslim. The film is good in making everyone a character first before their religious identity and there are no stereotypes to be found anywhere. Everyone eventually gets along with everyone, even those that seem like the bad guys, and all is well.
This movie really is one that could have only been made in the 90s. And it really feels like it every passing day. It is a wonderful box of colour, fantastic acting, great music, and charm that only the best 90s movies have. There are no dull moments, no point where you stop smiling. It is the kind of movie that makes the world feel a lot brighter, a lot happier afterwards. No matter the troubles in the real ugly world, there is charm to be found in this film one. It is a fantasy, but with real emotions at its core. A world where everyone gets along, where there are music and beaches and people out there to help you out when you are in trouble. It may be candy for the eyes and ears, but also for the soul, and its aftertaste is one that makes you smile long afterwards on a gray rainy day.
Thank you for reading!