This movie made me cry. It laid its gentle hand against my chest and made me cry even after I had put on the lights of my apartment. I had wanted to watch this film, concentrate on it completely, because it is what it deserves. It deserves our attention, nothing less. So, after having come out of that darkness, eyes to the screen, I can safely say that this film took my heart in its hands, and it shall not leave for a long while.
Trigger warning: Suicide
Summary:
In the 1930s Qala Manjushree is a success in the film music industry based in Calcutta. But all is not well. As her mind grapples with the past with her mother Urmila, her rival Jagan, her patron and her music she slowly starts to unravel.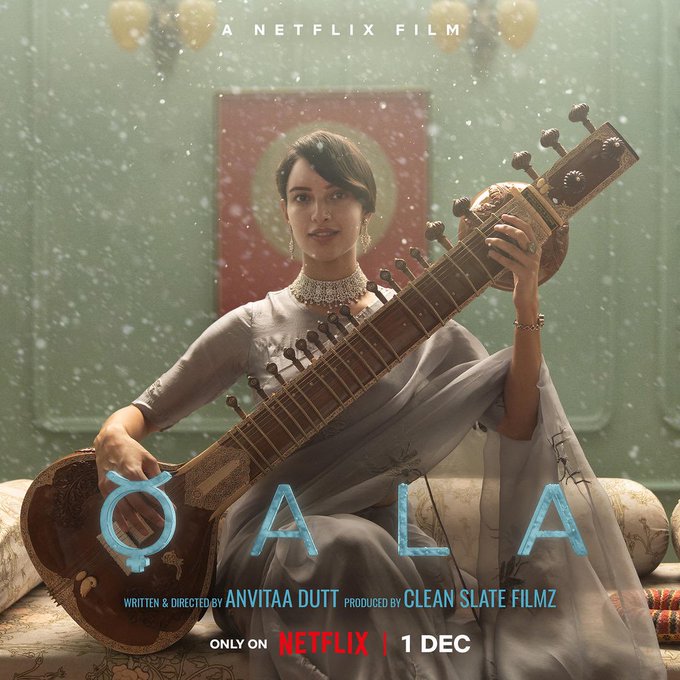 There are many meanings for the word Qala or Kala, depending what you mean to convey. Kāla in Sanskrit is related to the Kāla, the God who controls time and death, which carries with it their meaning of time and death, but also darkness and the night, thus also related to the Yama, God of death and justice. Kāla also means performing arts. It is also related to the mouths of monsters that is commonly seen in Hindu temples. The term is also associated with Goddess Kalaratri, who destroyed all evil beings during the Navratri celebrations. In Persian, Qa'la means fortress. All these meanings come into play in Qala.
I have been a big fan of Anvita Dutt as a writer-director ever since Bulbbul (2020). She always takes such care and compassion into every frame, and her stories are always ones that need to be told. They are the stories of women, going through hardships in the Patriarchal world we live in, where there is strength in both the direction and story that makes these stories scream. Set in the past, Qala recall the problems that we still have today, from the #MeeToo to the double standards in society when it comes to men and women. In a story set in the music world, the silences are heard the loudest, the empty spaces of the snowy hills to the beautiful, but cold rooms giving no light. When the lights do come, then it is something to be weary of.
Happiness for someone is contrasted with the unhappiness of the other. A dainty love song contrasts between horrific abuse. Someone's silence becomes someone else's turn to speak. Claps and adulation contrast with the silence at the other end of a telephone. These contrasts, repeated actions, built into a story that is full of empathy trying to break through the trauma that our protagonist, Qala, has suffered, and whose touch is as severe as one of frost on the wings of a moth.
Before getting to the actors, I would just like to take a moment to give credit for the splendid cinematography by Siddharth Diwan. His camera transports into this world, giving a taste of the coldness that is both physical and metaphorical. A simple moving shot, without any words, tells of the scene even before we guess what is going on. The frames are beautiful, telling each characters psyche in an instant, and we can see the mind of Qala breaking with her. Also, for the stunning production, art and set design I should mention Meenal Agarwal, Ramesh Yadav and Vasudha Saklani. Their combines work into the Qala's family home, to the many houses and offices in old Calcutta are meticulous, with stunning touches that give such weight to the authenticity of what we see. The brooch Urmila wears, the dark gothic interiors of the family home, the labyrinth, the Art Nouveau styling in the recording studio and lift. Many times the settings echo that of a stage play, with the smoke and falling snow.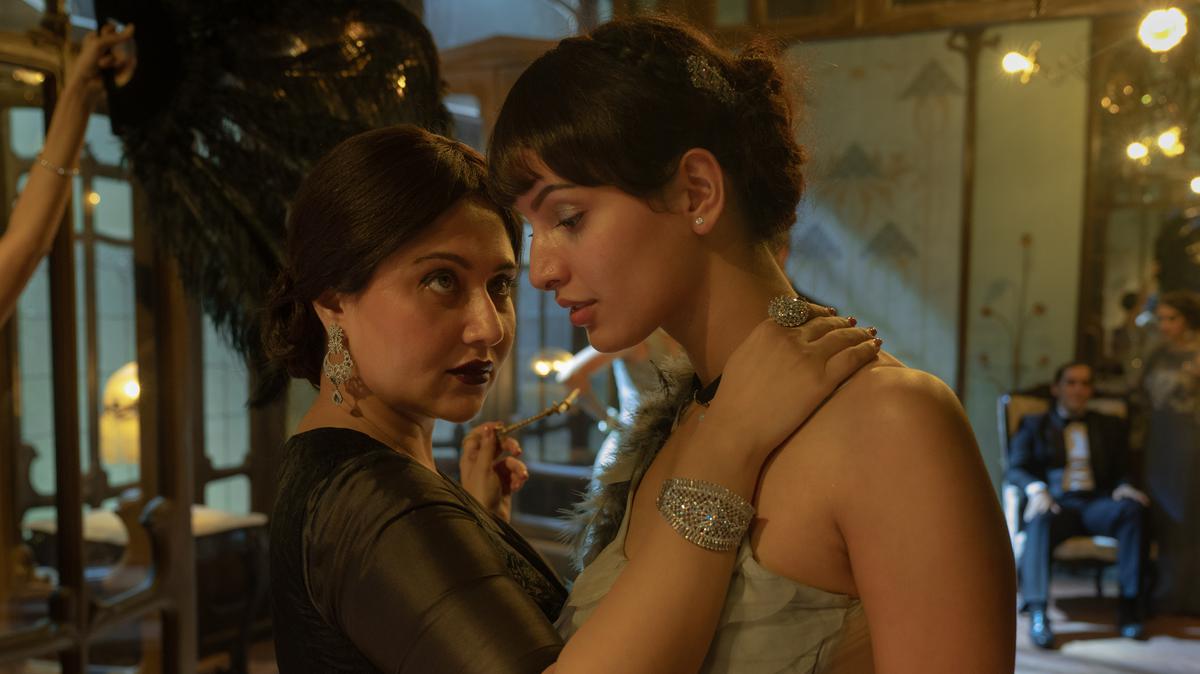 The heart of this story though lies with the mother and daughter conflict. Tripti Dimri as Qala proves once more that she is one of the best actors of her generation who deserves so much praise. I have loved her ever since I saw Laila Majnu (2018), adore her choices of films and am rooting for her to get all the awards for this role. Dimri becomes Qala, from when she is a child to an adult and there was no point where I did not believe her. Her stammer, wide eyes, this pent up fear inside waiting to burst as she tries to make her own success in a world that doesn't allow her the easy options. Dressed in delicate fabrics, her voice soft, you can see the effect the long-time trauma has had on her. Her Qala is frail, yet unyielding in her pursuit for some kind of happiness that would fulfil both her and give her the love of the mother she so longs for.
Swastika Mukherjee as Urmila is a powerhouse as the mother which we can both understand, yet not completely love. Living alone, given up on her music, she puts everything on Qala until she finds someone else to replace her dead child. Her own frustrations, life choices make her do the choices she does, ignorant to the ways in which it affects her daughter. She too slips into another reality when she meets Jagan, which hurts Qala even more.
As Jagan we have Babil Khan making his debut. He is a gift and has the acting chops to prove it. There is this vulnerability in Jagan, who is an orphan and whose only life has been for music. He tries his best to friends with Qala, maybe having a small crush on her (at least how I interpret it), but not doing or saying anything to help her even though he can see how miserable she is. Urmila makes Qala his maid, bringing his milk – the metaphor of mother giving milk to her child is not lost – to help his voice before performing. Khan's eyes speak and I hope he succeeds, starting with this film, this role, is certainly a promising start. (Yes, he is the son of the late Irrfan Khan, I just didn't know where to place this fact so here it is, stumbling at the end)
The music by Amit Trivedi makes this one of the best soundtracks of the year for me after Ponniyin Selvan: I and Gangubai Kathiawadi. The music is intricate in its simplicity, brining us to the world of the 1920s up to the 1930s. There is a longing there, a sadness weighing on the music that fits the tone and story so well. My favourite song might be 'Phero Na Najariya' for its yearning and stunning lyrics that reflect the moment in the film very well. Second would be 'Shaq' and the rest I yet don't know where to place. All I know that this is an album that I just love and like with everything in the film, it is done with care and love.
So, as we come to the cold December, with snow on the ground and feeling the cold outside this movie was one I could easily transport into. Dutt and Dimri are a divine Maestro and Muse duo that I hope to see more of. It is a match made in Heaven, I am sure. Both of them giving the world their craft with such empathy, understanding and anger at what women have had to go through, and are still going through. I doubt I will ever stop watching their films. The world needs films like theirs and their talents.
Thank you for reading!