Ok, first off, I have to say that this a gritty, action-packed film in the best way. Sexy, raw, high-voltage and brutal in an entertaining way. Also. DO NOT LEAVE EARLY! Stay through 'Jhoome Jo Pathaan' at the end to see an end credits scene. This is merely the beginning of something great, so best to savor every moment because King Khan is back and is bringing his Bollywood Court into a brighter age that sizzles, electrifying the screen and souls alike in the cinema hall.
Summary:
Pathaan is a secret agent of the JOCR whose mission is to take down Jim, a rival agent who plans retaliation upon India with a powerful weapon of war. With him is his team and another agent, Rubina Mohsin, who plans to take Jim and thwart the attack.
Siddharth Anand is a director who seems to be in the audience's seat when he directs. He fully understands the stars he is working for, showing them in their glory, and admiring them the same way as we all do. He is the right man to shape, embellish and remind us all why we love the Hindi cinema stars so much since he so sincerely loves them too. Though his plots may be similar (danger to the nation, action ensues and betrayal), there is enough change in them and entertainment value that make them a crowd-pleasing experience that brings you to make the pilgrimage to the cinema hall.
The cinematography by Satchith Paulose is stunning and larger than life as he frames our Stars. Yet there is also the familiar spinning camera (some might call it infamous) whenever exposition is said on screen. The words by Shridhar Raghavan and Abbas Tyrewala are snapping, entertaining, full of pathos and harken back, yet always staying true to the characters and stars that say them. It is all a very well-flavored Masala.
If War (2019) was a fun, entertaining, if not a light on a plot other than the gay (not very subtle) text pinning it all together along with Hrithik Roshan's charisma. Then Pathaan is a finer-tuned, grittier, mature brother with higher stakes and an older audience in mind with its political commentary, as well as the high-octane sex appeal that serves each character with their raw charisma so brightly that kids would need to close their eyes. They both have their silly moments, but it is always entertaining, and the characters keep us engaged with pure star power. It truly feels like a maturation in the best way. Also, I'm glad to see that the censor cuts were negotiated so that less than what I read was cut and that the film clearly stayed true to itself.
This is very much a Tristar show, with Shah Rukh Khan's star shining the brightest as the title character. In the grand Masala tradition, it reflects himself both as a human and as a star, as this is his comeback to the screen. If War was there to remind us why we love Hrithik, then Pathaan would remind us why we missed Shah Rukh in the first place. This new Avatar is a new one, but it is also a mold of the Star as well as the characters we know him from past films, culminating in an action-packed performance as the title character that blows you away. He is familiar, but seeing him after such a long time, it feels like coming home.
Shah Rukh is a man who came from nothing. A middle-class boy from Delhi without connections to the Film Families of Bombay/Mumbai, and made a name for himself, but with friends there who he cherishes by his side as he rose from TV fame to side-characters to be the Leading Man we love in the 90s, culminating in a Golden Era that was the 2000s in Hindi cinema. Pathaan is a reflection of it, although in cinema form. There is an added danger here, which reminds me so much of his early roles, such as in Darr (1993), where blood sprouted from his lips as he attacked screaming, and he even speaks the iconic lyrics from the song 'Jaadu Teri Nazar' in the film. Pathaan is dangerous, but underneath it is a heart that cares for the greater good and the people around him. He is a Pathaan because he protects just as he was protected from harm. There is romance too. There are the sweet, caring moments, but more than not it is the sexy, very adult kind that heats up your cheeks as you hiss to the silver screen for a kiss to happen. The screen turns electric, a tease, but it is also more than a pleasure. It is a play on power between characters and their relationships that are entangled in the tension between them. Yet when it comes to this, the desire comes from both sides, with equal voltage. The plot also has a fun reference to Happy New Year (2014).
This was my first time seeing Shah Rukh on the big screen, so there was this overwhelming feeling when he appeared, claps happening all around me, and whistles coming from the back. I have seen him many times on the small screen of my computer and TV, so seeing him on the silver screen took some time to adjust. His films have often given me comfort, so seeing him on a First Day First Show (FDFS) at my small local theatre and seeing his face gave me the same feeling.
Deepika Padukone as Rubina Mohsin is utterly captivating. She exudes power and sex appeal and is given equal footing in both her relationship with the men in the film as well as when it comes to romancing. She kicks ass and is powerful, yet underneath it all, there is the girl who was hurt by the betrayal of the nation she looked up to. If she is saved, there is a reason for it, and it is never framed as a helpless woman needing saving for the sake of it. Yes, it does make out hero look fantastic, but not before she has had her time to shine in the spotlight. Rubina also uses her sexuality to disguise, to distract, but the control is always on her. She is not cut to mere body parts by the editing; she is a sexual woman, an intelligent woman who knows what buttons to push to get what she wants.
Both she and Shah Rukh together on screen are pure fire. They exude such raw sexuality, and with their respected looks combined, it is so that you can never look away. Even those bothered by some nitpick plot detail should shelve those thoughts because sometimes it is entertaining to see two hot people romancing the clothes off of each other with their eyes.
Our villain is John Abraham as Jim, whose screen presence magnifies his villainy. What was once a smirk on the cheeky side now is a slicing smile of an intelligent man with nothing left to lose. His voice, guttural in its brutality, is unnerving, combined with his usual relaxed, smiling behavior. A man with no one other than himself is willing to do anything for his own goal. There are layers to him, a kind of sour bitterness born of pain. He is a very good Villain to our Heroes. A lone wolf who brings chaos in contrast to those who have a set of loyalties and promises, but he keeps none of his. Also, the film is excellent in showing his many attributes as an actor and his more physical ones, which are a wonder to see on screen. Whenever all three stars are together, I am sure the heat within the cinema rises.
In many ways, our main characters have been hurt by the nation they belong to, so they choose their own paths. They each have their reasons and traumas but find different ways of moving forward. A nation, for some, is the one that took them in. For another, it is the one that raised them. Also, it can be merely a concept of borders, but not one that reaches the soul. There are so many reading one can have of it, especially with the mention of Kashmir in the plot. The film teeters on these questions but lets us answer them, especially when nationhood is so polarised with a concentration on ethnicity, religion and lines made by colonialism, as well as the Partition.
For our side characters, we have Dimple Kapadia as Nandini, head of the rag-tag JOCR, whose performance brings so much pathos. She is treated respectfully within the narrative, and her character has happy, funny and sad moments that make us care for her. Then we have Ashutosh Rana reprising his role as Colonel Sunil Luthra. He is a man who has had to make hard decisions, not always the right ones. And finally, as a cameo, we have Salman Khan as Tiger, whose presence with Shah Rukh elevates the film in a meta sense but also brings with it the first physical knot in a cinematic universe to India to equal the MCU. He has his laid-back attitude and fights magnificently, but he also is the caring Salman from the screen, which is a delight. It is the Karan Arjun (1995) reunion for the ages. A few jokes are exchanged, like a pair of old friends.
As for the music, we have Vishal-Shekhar bringing on the banging songs. It is just two songs and two themes, but they are all wonderful; it is hard to choose a favorite. The background by Sanchit Balhara and Ankit Balhara elevates the film is excellent as it weaves through the action scenes, keeping the film's pace tight.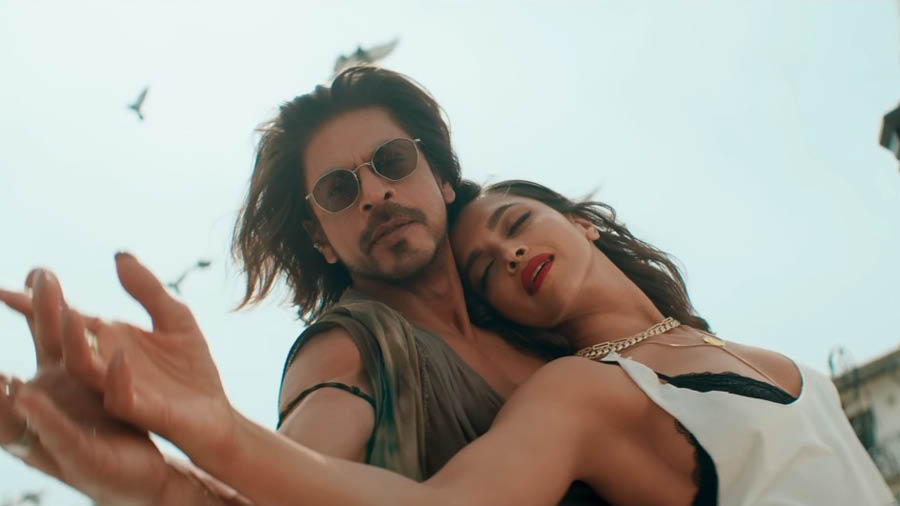 My favorite painting is La Primavera by Sandro Botticelli, made in the 1470s–1480s period. It has popularity been said to be the painting that began a revolution in Italy since it was not a painting about everyday people, of royalty or made in adoration of Catholic Saints or the Madonna or Jesus. Instead, it was a painting about the Roman Gods and Goddesses, an allegory on spring, fertility, love, and so much more I have no time to get to. The painting is also often cited as beginning the Renaissance or rebirth translated from the Italian. The point is they were Old Gods, no longer worshipped in a Pantheon that had seized to exist in the minds of the people whose ancestors worshipped them. Until this painting came along, bringing with it a daring style, sexy even, bringing the old together to make something new and fresh. Only after it did the likes of Michelangelo (not the turtle) and Leonardo Da Vinci emerge, bringing art to a new level.
Pathaan is what I see as the La Primavera of Hindi cinema, which has been drudging along with glossy, often cowardly remakes (compared to the originals, especially those from South India) and staying with the status quo without entirely trying to understand what the many types of the audience want or what would unite them.
This film is an original film, bringing back what we thought we had lost in the sands of time with its Masala dialogues and action, yet straying true to its heart with the messages it slips there. It connects us both as audiences to the past and the present of the Stars, but also to those of the characters. Before, the idea of a Spy Universe was only in the minds of fans, but now it is in silver-threaded concrete on the screen before us. It is Iron Man (2008), La Primavera and Celebration of Shah Rukh Khan and Hindi Cinema all in one. Now, there is only to see where it will go from here.
How will things go? How long will it last? I do not know, but it will surely be exciting!
Thank you for reading!