This is a film that gave me a feeling I thought had been lost, the warm fuzzy feeling in your chest as you laugh at the screen. It kept me smiling all the way through.
Summary:
Tara Kaul is a Kashmiri Pandit living with her grandfather in Delhi until she gets married to Vijay Sharma who takes her to London, where he leaves her penniless. Bilal "Billu" Khan is the son of the hotel owner where Tara was left on her own. Chance meetings ensue in London and finally the two make a deal that will solve both of their problems in one go. They will be married so Tara can have enough money to go back to Delhi and Bilal can get his meddling Aunties off his back.
In an industry starved off of good rom-coms that made Hindi cinema famous in the 2000s, while preferring hyper masculine and close to jingoistic fare with its stories and iconography, this movie is a rare diamond in the rough who rejects every single one of the traits associated with Indian cinema today, and embraces wholeheartedly what made the films of the 2000s so iconic, while still staying true to itself in its own story. Samar Iqbal the director has truly made a classic for the modern age and Sanyukta Shaikh's story delivers. It might stay underrated for a while, but people are starved for stories like this and it being on Netflix will surely help word of mouth spread.
When I say 2000s I truly mean it. Hindi cinema is so concentrated on staying in India now that a movie set almost entirely (98%) in the West is a rarity in itself. It brings to mind a movie like Jhoom Barabar Jhoom (2007) with the fake story framed within a romantic setting, London setting and themes of immigrant experience, while having the queer themed subtext of something like Kal Ho Naa Ho (2003) brought to the forefront with the sensibilities of and growth we have in the 2020s. Heck, even the title brings back a notion of something like Ladies VS Ricky Bahl (2011) with the war of the sexes and ideals and a male protagonist who needs a little emotional kick in the chins to grow up and confront what made him that way to be worthy of the female lead.
Yet there is also the progressive 2020s ideals that bring the slight cynicism, but also realism into the story. The female lead is a Kashmiri Pandit, while her love interest is Muslim, and not once does religion or communal animosity spring up. They are both minorities within both India and England, but what would have caused a ruckus in India with the possibility of violence turns a non-point in England where such marriages across communities is more common, if not the norm.
Then we have very queer friendly London that embraces the many facets of the culture, from changing the image of the 2000s of something like Amitabh Bachchan in K3G (2001) dancing with white women as accessories in 'Shava Shava' to a gay gender-fluid professional dancer surrounded by beautiful men and women. The camera makes it clear this is mostly for the female and queer gaze. The patrons being both gay men, women, cis men, with a lot of diversity from Desi to white makes it clear this is not a consumption of flesh, but an admiration of the art form of the performance of dance and the concentration is on the work, the art, and it plays with the act of objectifying itself once Bilal makes himself the willing object of desire with joy by appealing to the gaze of both women and queer men.
That is a revolutionary act in itself, to essentially turn a trope of the Item Song on its head and giving it the queerest treatment possible, with boldness and being unapologetic about it to the core. Like 'Dard-e-Disco' from Om Shanti Om (2007), but turned up a notch or a hundred. With the cinematography of Amarjeet Singh it looks like something out of a Kpop video with the sharp choreography and even sharper, hazy lights and concentration on the dance steps. In a movie otherwise shot in a very realistic manner in very real locations, these highlights of both fantasy and spectacle stand out.
As Tara we have the newcomer Sonia Rathee who does a fantastic job as the both vulnerable and strong-willed female lead. I call her that because she is the one we start the film with and whom we end too. She is the one who has to overcome many physical obstacles, as well as her own prejudice, to fit into the situation she is thrust into. She is someone who is fantastic at calculations, but who has never been taught to be anything but a wife who helps her husband, hence her dire situation once she is stranded in London alone. Rathee is absolutely charming on screen, shining and makes Tara's growth as natural as breathing as she grows to know her own worth.
As Bilal or "Billu" we have Harshavardhan Rane who seems to be determined to be in every possible Hindi cult classic romantic film of each decade. As Bilal he hits the perfect balance between a troubled man with his own vulnerabilities and a jerk who needs to grow up. The chemistry between him and Rathee is so intimate and soft in the best way. He speaks his love with his eyes, shedding this uncaring facade whenever his eyes meet with Tara's. He makes us understand the troubles within Bilal's heart, but by no means excuses the way he acts sometimes, and the the film doesn't either. He goes between cold hard reality to a man in love with such ease in a scene, especially in the red telephone box scene with Tara. He switches between moods fast, but always staying true to the character's core. It wonderful to see how much he has grown as an actor since Sanam Teri Kasam (2016).
As the flamboyant gay and gender-fluid dancer we have Raheem Mir as Ritz who sets the screen on fire with their dancing. She looks absolutely fabulous in 'Niched Dunga' and brings such humour and heart into the story. His 'Laal Dupatta' scene is just fantastic! His love interest is Pranay Manchanda as the adorable Gujarati doctor Jignesh "Jiggy" Patel. His chemistry with both Harsh and Raheem is just great. There is such sweetness to Jiggy and he gets some of the funniest lines. It is just so adorable, sweet and I love this romantic side plot to its core.
The music is by Manan Bhardwaj and it captures the films magic and romance so well. For a two hour film there is a lot of songs and all of them are bangers. I honestly have a hard time picking an ultimate favourite, though 'Sau Rab Di' and 'Nichod Dunga' are standouts for me.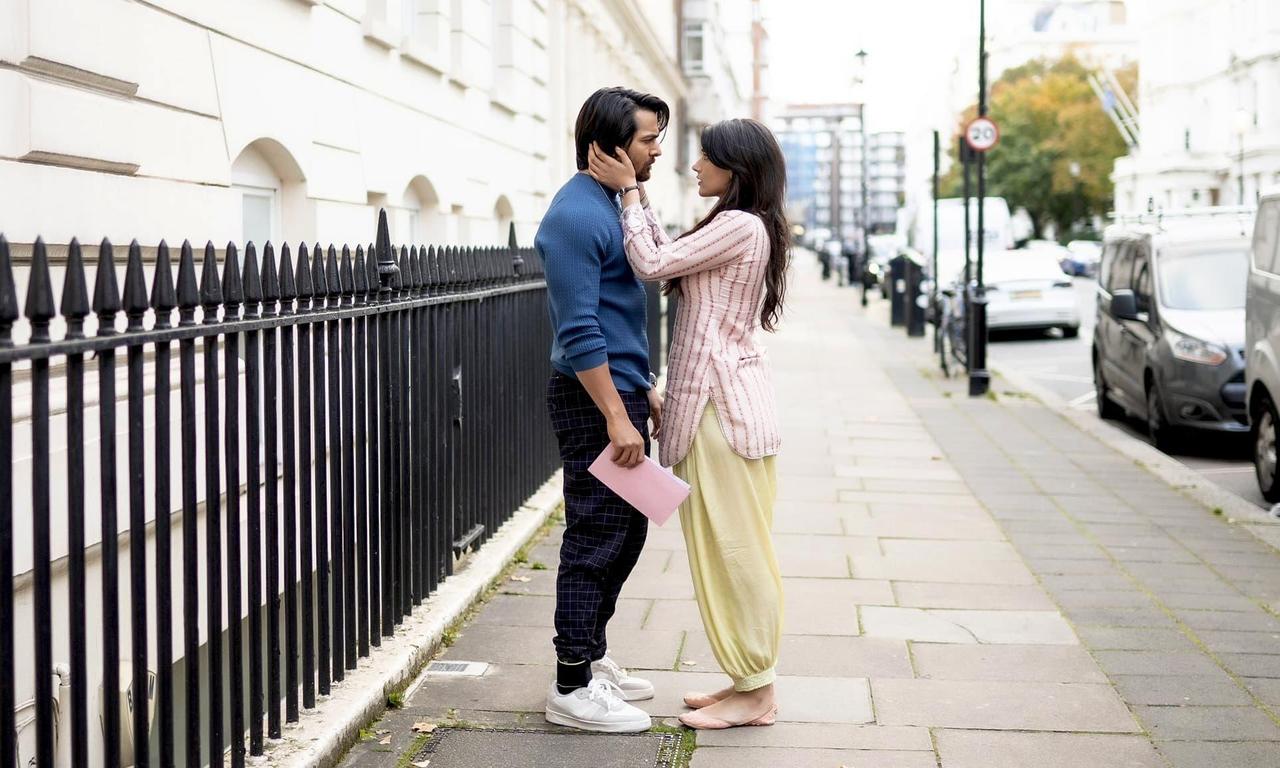 Like all good romantic comedies, this film is about growth, but it also shows how much we as a society have grown. When it seems that regression in both women's roles in big-budged Indian films are diminishing, when minorities are made into stereotypes and micro aggressions on screen are prevalent this film feels like such a breath of fresh air. Men, even strong-looking men, are allowed to be vulnerable and are not always right. Women can have their own journeys in the world, and not be tied to the demeaning role as just the "love interest" to scream helplessly the name of the male star without much to do herself. Queer people exist and are fabulous, gender is a societal concept and performance in itself, like we all perform in life. Love is what powers marriages, not the specificities of who belongs to which community or religion. In essence, this is what Indian cinema should be trying to do, instead of bowing down and being afraid of trying anything new, though I understand that certain hands are tied when it comes to this.
Knowing that John Abraham is one of the producers and having seen his "Bait and Switch" audience film Satyameva Jayante 2 (2021) which could be classified as a throwback back with the heart of the 1970s mixed with 1990s, but had a truly patriotic heart that made me cry with how much empathy it had. So it doesn't surprise me why he produced this film. That film and this are fighting back, doing so fabulously, because someone has to. I might have overthought this a bit, but when I mean this film is refreshing I mean it every possible way and I love it all the more for it.
Thank you for reading!