This film…just blew me away. I had heard it is a classic and I can see why. It does not pull any punches and filled with atmosphere it was the smoothest 3 hours I spent staring at the screen. Somehow it balances so many things, yet still stays consistent, and looks absolutely stunning! Though, I should say it is not for the fair hearted, especially the second half.
Trigger Warning: Suicide, blood, death, implied rape and very brutal depictions of killing.
Summary:
The rulers of medieval Tamil country, the Cholas, are said to have survived in an island in Southeast Asia after the Pandiyas conquered them. In 2008, a group of both military and archaeologists set out to find this island where no one has returned. Muthu, a Chennai porter carrying the loads with his men, is in it for the money. Anitha has her own motives to find the Cholas. Lavanya's father who was an archeologist disappeared into the island and she wants to find him. All three get separated from their group and they do find the Cholas…mysteriously still alive, but far from the glory days of their forefathers.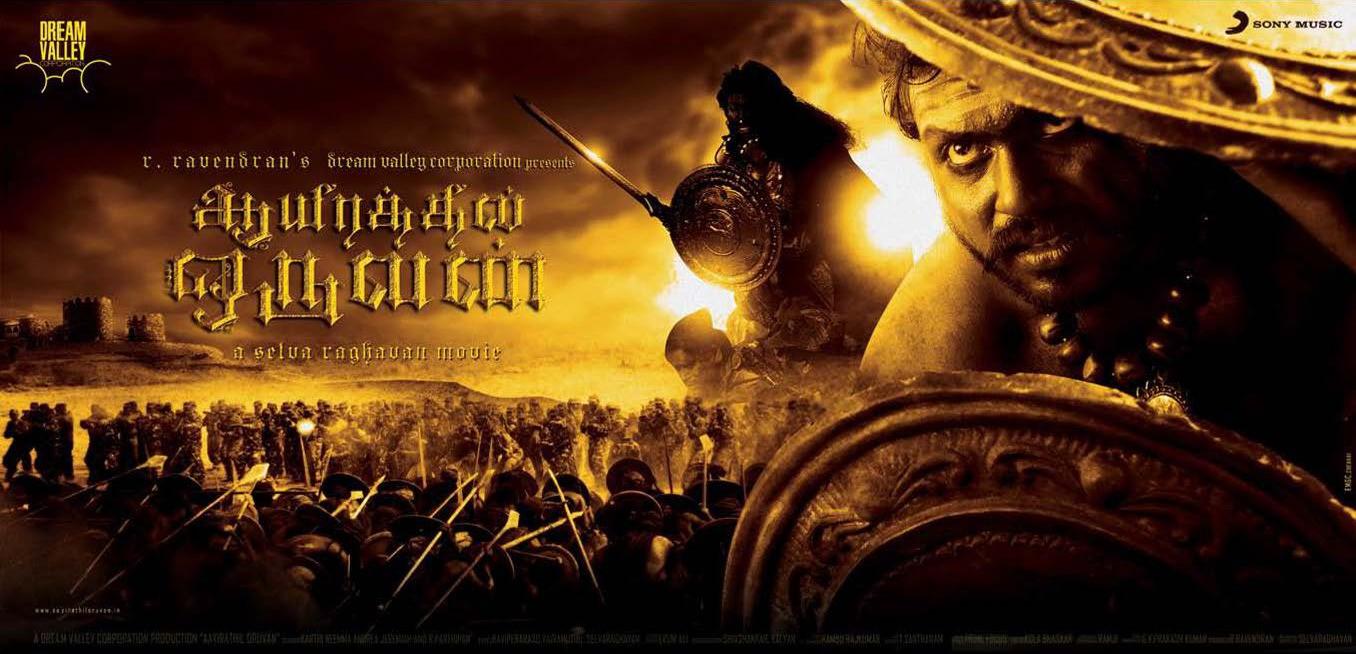 This film is as much of a directors movie, as much as it is the cinematographers. The writer-director, Selvaraghavan, delivers a story both with much humour and brutal social commentary. In a way, this film is deceptive in its first half, almost being as if James Cameron directed The Mummy (1999) until the second half comes and it turns into the action packed Mad Max: Fury Road (2015) combines with a historical epic of something like Apocalypto (2006). Apologies for using Western references here, but those were the first films that came into my mind and I am still on my journey into Tamil cinema to fully understand it as well as I do Hindi cinema. Though I do have a few gripes, mostly that the rape reference by Muthu when sedated, and though Lavanya has a good story, she is not used as much in the films second half as much I personally would have wanted, while the rest of the cast get their meaty stories to chew on. Also the VFX haven't aged as well, but that is to be expected, though it doesn't make the film any less awesome. Also, I will try to make this as non-spoiler as possible, if some things feel off in the first half, then the second half makes it all make sense, so not to worry so much about it while watching.
The cinematography by Ramji is stunning! There are so many clever and stunning shots in this film that stay with you a long time. There is this constant realness to it all, even as the VFX come with snakes, sand pits and falling buildings. It truly feels epic, and in the second half with its many shadows and oil lamps lighting the screen it feels magical. The world is a brutal one, but there is beauty in it too. Truly the cinematography is on another level completely.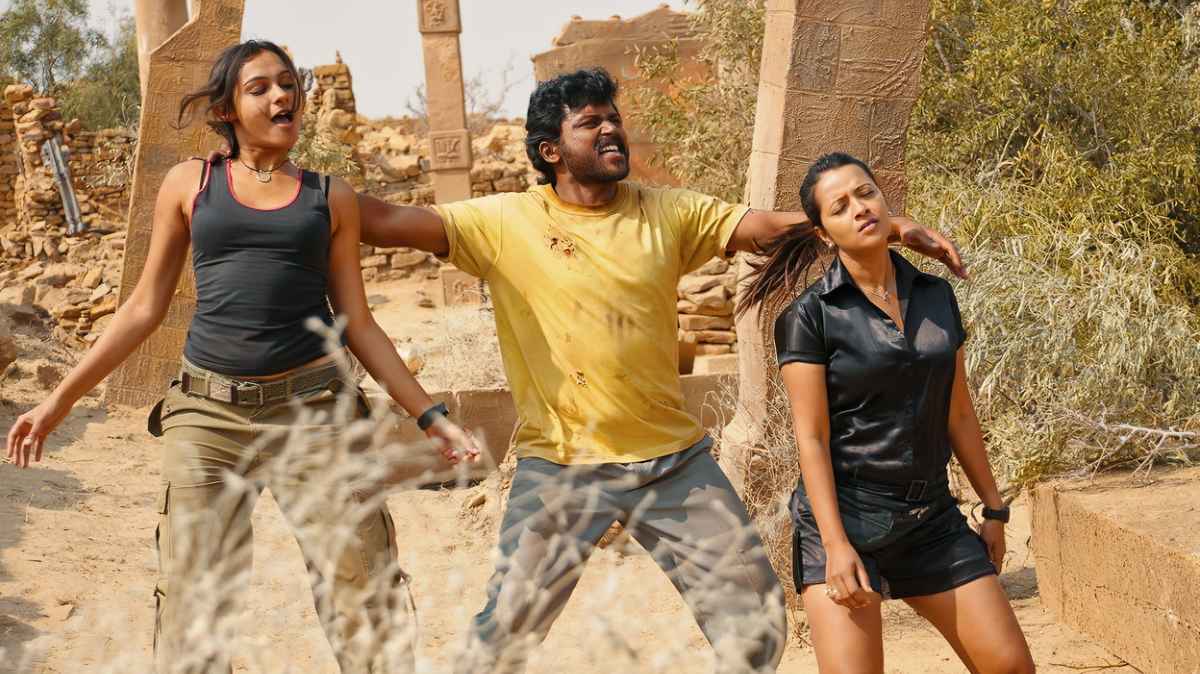 As our hero we have Karthi as Muthu, the low-class porter. He is very charming and crude, but has a good heart, even if the 2000s misogyny does seep out a few times. Karthi makes him just so wonderful to watch as the two women bounce off of him and each other, and they have him around their little finger. When the second half comes he becomes serious, even gaining some magic, and we see how much this man's charms and ability to make friends becomes his greatest benefit. His silent acting for the second half really makes an emphasis on the seriousness of the situation at hand, letting the audience figure out what is happening by themselves.
Then we have Reema Sen as Anitha, who is just brutal. She uses every possible manipulation to get what she wants, and kills whomever gets in her way. We know there is something off about her, but only in the second half does it all make sense. That is really where Sen shines, as the stakes become higher and higher for our protagonists. Also, she gets to be bad ass, which is nice. Then there are tender moments with Lavanya that are very sweet to add to the complexity of this character.
Andrea Jeremiah as Lavanya is the brains of this trio. She knows how to avoid most of the traps and uses her knowledge to have the trio reach their destination. Her relationship with Muthu is sweet, even if it is very bittersweet. Her story is arguably one of the saddest ones, but the story doesn't longer much on her on the second half or give her her own private moment scene to reflect on it, which is sad.
Then, crowning this trio, we have R. Parthiban as the current Chola ruler. He has such a screen presence and dignity, even when presenting these fallen Cholas in a state of desperation. He has some magical powers that make him able to do certain things, and he is very smart too. When he and Muthu dance the scene is drenched in beauty of a renewed happiness, when in the past he was seeped in a heavy sadness.
The music by G. V. Prakash Kumar is haunting in its beauty. Sure there are the popular hits like the one above, but the background score is especially one where he shines. The second half with its cinematography combined with the music is just mesmerising. You will want to watch the film again just to experience the marriage of the music and cinematography again and again. It is just that good of a score!
This story is very well crafted, repeating from many Tamils know from their history, but adding a fantasy element to it. Not to mention the social commentary of the brutalities of the state versus indigenous peoples in how they treat them if they can exploit them. The film truly does not pull any punches when it comes to this and it seems very intentional in how it depicts these brutalities, letting us draw our own conclusion into which indigenous group they are reflecting here. The early reference of Aayirathil Oruvan (1965) – which film takes its name from – comes full circle at the end with Muthu. Overall, a very well made film and a haunting one at that, since the first half truly does not prepare you for the splendour and harshness of the second half.
Thank you for reading!